I'm so excited to share with you my design because my friend Silja helped me to capture what I wanted to show you!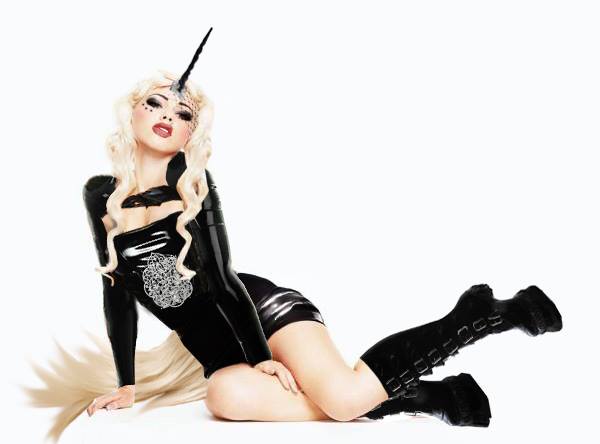 This is Hunicorn (the name of my creation), I wanted to represent a sexy and happy kerli because she's very different now, she understood that everything gets better and hey look at her, she's now always showing a beautiful smile. This outfit has black pieces and counts with a horn, boots that have paws and a latex dress, I chose the black color because it's sexy and hot, you can see a tail cause it's really tipically of a unicorn. This design is bubblegoth because the bubble style is because of the creauture (unicorn) and the goth style is by the black pieces that form the outfit. The dress has a figure that makes it look better.
I like a lot this EP because it shines happiness, I like listening to those dance songs cause it makes me dance and be glad! it's really hard to decide a favorite song (the soundtrack of my summer) between those epic masterpices but I'll have to choose one, so that's definitely The lucky ones because it says how lucky we are cause we have a chance to live everyday and enjoy the life, besides the storie behind the lyrics is very beautiful cause it's a miracle that Brian is still alive

wait what did you disigne ? Who's on the picture ?

I designed the outfit (wasn't the contest about that?). I also changued some things of her body...
This is the original picture:

Similar topics
---
Permissions in this forum:
You
cannot
reply to topics in this forum